Client: Bicep
Product: RPET umbrella City Walker model
Customisation on RPET umbrella:
Digital Print on the external canopy, engraved handle ring, made from RPET fabric.
This customised RPET umbrella on the City Walker model was created for electronic music duo, Bicep.Now based in London, but born in Belfast, Bicep is made up of 2 childhood friends, Matt McBriar and Andy Ferguson. Bicep has been installed comfortably as one of the biggest names in both underground and mainstream dance music. Bicep have recently released their second studio album, 'Isles' which reached #2 in the Official UK Album Charts, and breaking into multiple Billboard charts. Bicep have since been nominated for 2x BRIT Awards, a huge achievement for an independent electronic act.
With live shows at the centre of their focus, Bicep are launching new shows which will contain a wide range of immersive visuals, making us the best company to create a design-focused umbrella for this band to then distribute as merchandise on their online store and at concerts.
We created a stunning City Walker Pro made from RPET fabric, with an engraved handle ring and seam-matched external digital print. The client wanted to keep the branding at the forefront of the umbrella, so centred the logo on the umbrella canopy which was then matched across the seams of the umbrella. The umbrella canopy was also fully Pantone matched to fit within the client's branding, and an engraved handle ring was added. Engraved handle rings are a premium addition to the design and give a luxury feel to any umbrella. Bicep's intricate logo is engraved on to the handle ring on each umbrella.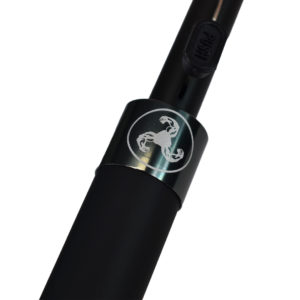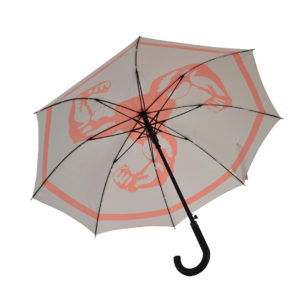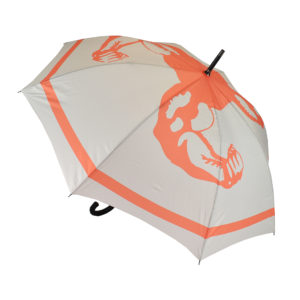 There are multiple options for custom branded umbrellas, and we can combine a multitude of techniques to create the branded umbrella that you are looking for. For this design, we used digital printing for the panels on both the internal and external canopies. Digitally printed umbrellas allow for panel printing using vibrant colours and patterns.
Each umbrella model includes customisation options to suit your budget or lead time. If you need an umbrella quickly and therefore we'll offer you a UK manufactured umbrella which we can turn around within 2-3 weeks. Customisation options are limited to a logo print on a UK manufactured umbrella, but if you have a slightly longer lead time then we can create a more bespoke umbrella, as with another client; the Empire Coach Builders Automatic Sports Golf Umbrella.
More premium bespoke umbrella options include engraved handle rings, and umbrella carry cases. Both are great ways to include subtle branding. Personalised umbrella carry cases work well for sports umbrellas and golf umbrellas, particularly. For example, customising umbrella carry cases with a company logo. By doing this, the brand presence is evident, even when the umbrella is closed and being transported around a golf or sporting event.
Another way to reinforce branding, is with printed and woven labels. These are great way to reinforce the presence of the brand logo or an understated brand stamp, or slogan.
What can we do for you?
Wurlin-The Umbrella Workshop are specialists in bespoke umbrellas. Progressive and flexible, we work with creative agencies and brand owners to diligently explore concepts and develop custom branded solutions. Experienced in sourcing products with a global supplier reach, we are trusted partners to clients for innovative manufacture, structured project coordination and international distribution. Complete your branded portfolio of merchandise with branded bags, branded metalwork, branded drinkware and more. Other solutions we can help you with include fulfilment and pick and pack service.