Here at Umbrella Workshop, we pride ourselves on having made brollies for some really BIG brands including; Bollinger, Bentley and Mandarin Oriental Hotels to name a few! Companies like these often employ agencies to take care of promotional products like their logo umbrellas, but we're just as happy working with more boutique brands looking for premium products with their logos on. So if you're one of them and in need of a little extra assistance when ordering branded umbrellas, our friendly team at Umbrella Workshop are here to help!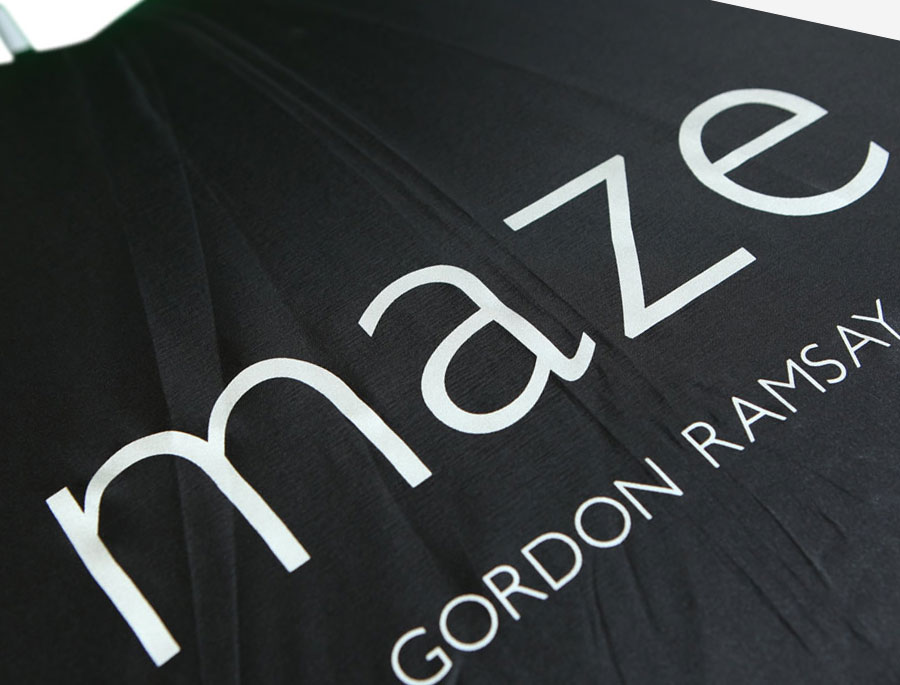 First things first
In order to provide you with a quote for an umbrella, we'll firstly need to know the sort of style you're after: a folding 'telescopic' design, a traditional golf umbrella, a children's umbrella or an elegant 'walker' style design? Each of these different types comes in different models depending on the size and colour you're after. We can supply spec sheets or talk you through it on the phone.
Show us your logo
By sending us your logo or other design you want printed on an umbrella, we'll be able to gauge how many different colours it includes and therefore the price it will cost to print. You should send your logo / design to us in EPS format. This effectively means that it can be resized by us to without any adverse effects in terms of quality when applied to the panel of an umbrella.
If you don't have a designer who can do this for you, The Umbrella Workshop can provide artwork services at a cost of £30/hour.
If you have only simple artwork requirements we are happy to re-format into a print ready format.
Simple text logo in .jpg or word format – this is pretty straightforward and we will prepare it FREE.
Jpeg or photo of simple logo – this would usually take us an hour to convert.
Complex drawn design to transfer to digital print-ready format – approx. 2 hours required for this.
On time & on budget
Who doesn't want their umbrellas delivered on time and on budget? If you already have a price in mind, let us know. We're lucky to have factories all over the world, allowing us to pick the one that best suits the available timeframe / destination for delivering your umbrellas. We can also suggest using different materials to help you achieve the finished product at the price you had in mind.
Ready to roll? Give us a call at Umbrella Workshop on +44 (0)1225 66 79 79