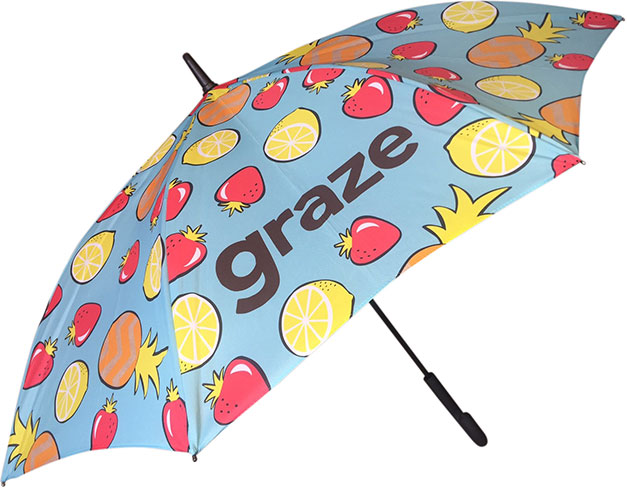 Digital Printed Umbrellas and Dye sublimation Umbrellas.
This is a method of printing umbrellas digitally and allows full panel print. Also called edge-to-edge print for artwork using vibrant colour, pattern or photos.
As technology has progressed, this method of printing has been made more accessible. This means it is available on shorter production runs and we are pleased to offer digital print on umbrellas on quantities of over 100.
Sublimation or heat transfer printing is the application of sublimation inks onto a surface using a heat press to provide the required combination of heat, time and pressure. This combination causes the inks to be converted from a solid to a gaseous state enabling them to penetrate the material so that a permanent, full colour image is formed. The colour penetrates the surface of the item so that the result is colourful, long lasting and resistant to scratching unlike some other printing methods that merely print onto the surface of the item.Benefits of digital print on umbrellas and dye sublimation of umbrellas.
Benefits of digital printing on umbrellas or dye sublimation on umbrellas
Pantone matched fabric colours from production runs of just 100 umbrellas.
Dramatic full panel designs can be achieved, using shading and graduation.
No limits to the number of colours that can be printed.
No deterioration of printing after prolonged use, colours stay vibrant.
Digital process for photographic and tonal images. Full photographic prints can be achieved. Both in colour and black and white.