We have an extensive range of stock fabric, this we have matched close to pantone references to help selection.
It should be noted that when using a double canopy colour of the fabric can be darkened.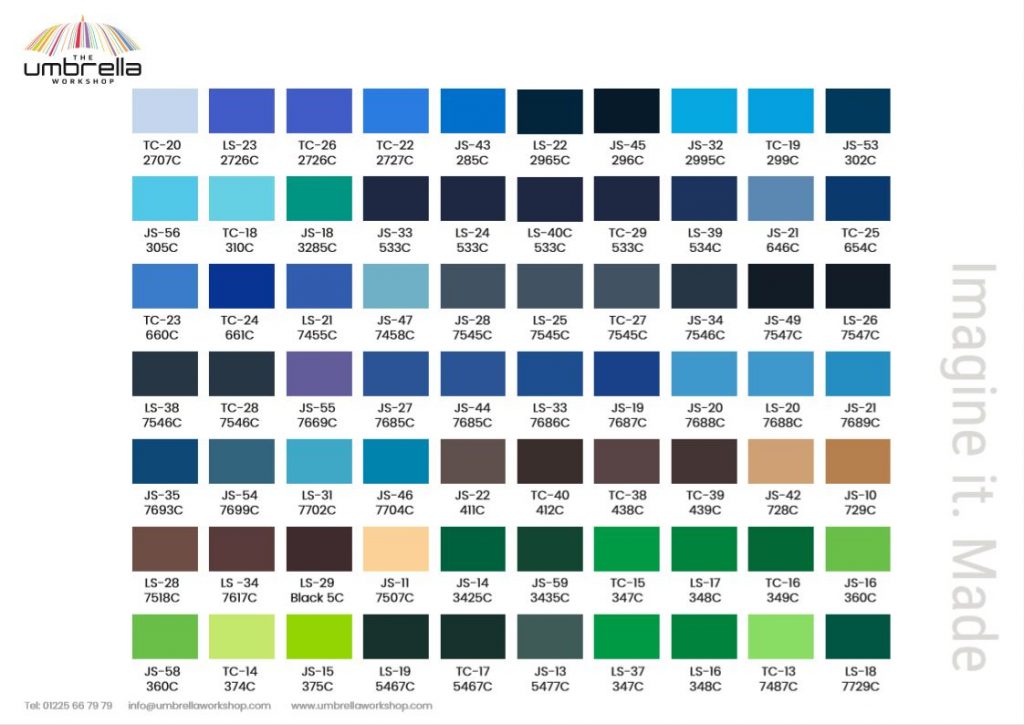 We can match the canopy of the fabric to pantone, using a special dye print solution. in essence we print the external canopy of the umbrella with colour required. The inside of the umbrella is of a lighter colour.
The difference between Stock fabric and Pantone matched can be seen below.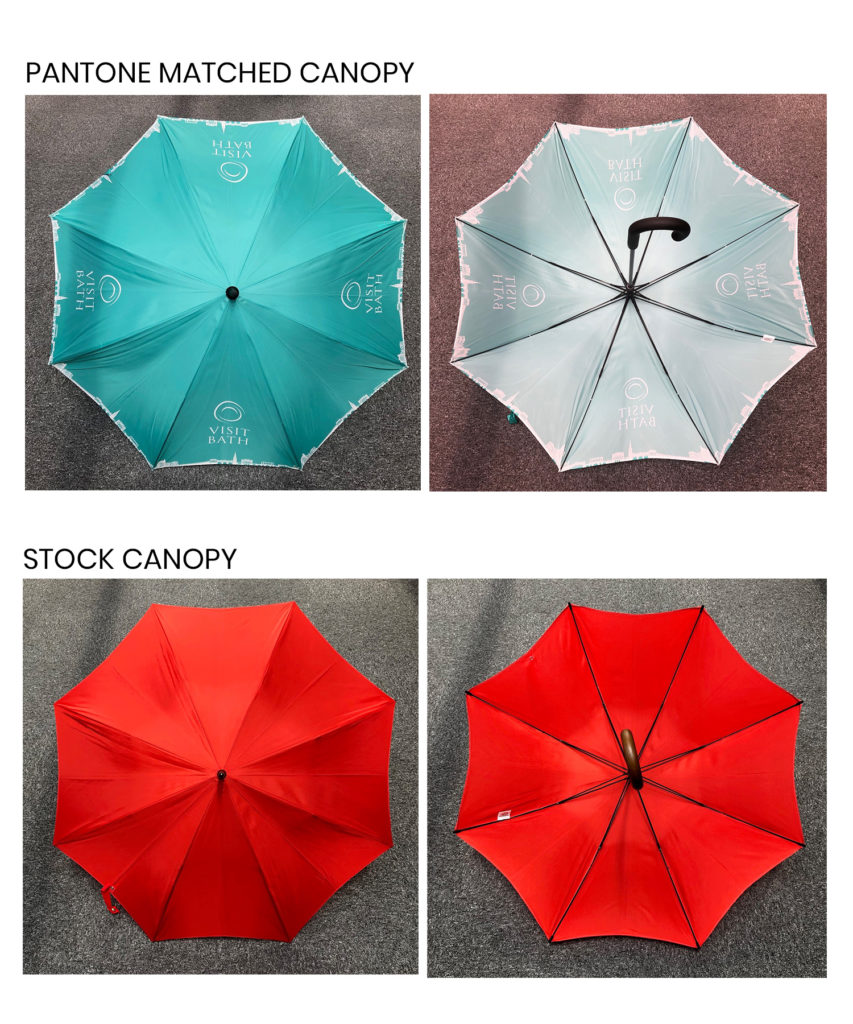 Our umbrellas are made to last. They are made from premium fittings and high grade pongee (polyester) which is why we are comfortable offering a warranty with them.
All our umbrellas are covered by a two-year guarantee for quality. Unless specified or as a custom-model order, all models of umbrellas are covered by this.
We're so confident in our umbrellas that we know they won't let you down that we offer this 2 years from the date of supply (your date of delivery).
Our guarantee is with you, our client, so if you feel as though an umbrella fails on quality, then you should return it to us immediately and we will recompense you.
This covers manufacturing or print faults on our umbrellas. It does not cover damage caused by extreme weather conditions, breakage, or damage due to excessive force or inappropriate use.
To make a claim on the warranty, you can send in a photograph and/or video of the faulty umbrella to us. It will need to illustrate the issue.
On review of the faulty umbrella, we will find a solution for you that might include:
Repair of the umbrella if appropriate.
Replacement through new manufacture.
A credit note or refund for the umbrella.
Our warranty is valid for the organisation (our client) that purchased the umbrellas from us and not individuals who may have bought the umbrellas or be given the umbrellas from our client.
Our umbrellas are available in three main sizes: Sports, Walking and Telescopic.
Umbrella material is very thin and translucent. Shadow show through refers to a technique of using 2 pieces of material and allowing the image the show through, creating a pleasant visual effect.
Our umbrellas are tested to withstand gusts of up to 40 mph, and unlike cheaper versions are designed to turn inside out and recover. All come with an impressive two year guarantee as standard. Vented umbrellas allow for extra resistance, allowing wind to pass through them, reducing tugging in high wind. However, their 16 panel construction limits branding.
See below how we test our umbrellas for wind speed.
Fibreglass: Strong lightweight, with an element of flexibility. Less brittle than wood.
Aluminium: Lightweight, allows for miniaturisation of mechanism in smaller umbrellas.
Wood: Elegant, traditional and environmentally neutral.
Carbonite steel: Provides great strength and durability in premium umbrellas.
Pongee is a high quality (190T – T referring to thickness and strength) polyester fabric. Owing to its fantastic water-repellent nature and quick-drying quality, it is perfect for use in umbrella making. Plus, it takes print very well… How convenient!
These stylish umbrellas are 'walking length', traditional in style and slightly smaller than golf umbrellas – ideal for urban environments!
Our vented umbrellas actually look like they have two canopies, but what a 'double canopy' actually refers to is an umbrella with a decorative interior lining. We've produced umbrellas with everything from cloud prints to bespoke maps on the inside.