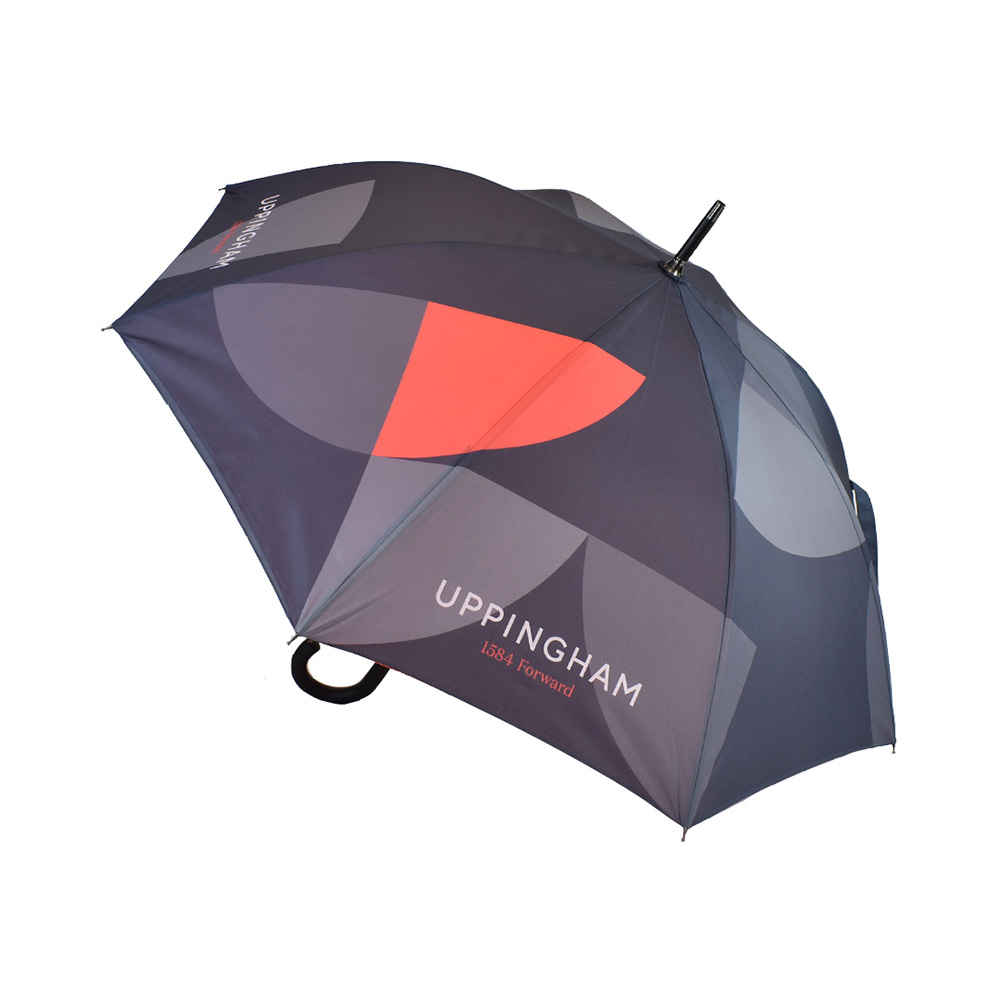 Uppingham School colour matched City Walker Pro
This branded school umbrella was created for an independent co-educational boarding school in England which was founded in 1584 and consists of colour matched umbrella canopy print. Uppingham School is a place of architectural contrasts, tradition and modernity and is an intrinsic part of the historic town. This City Walker Pro umbrella (link to product page) was manufactured for Uppingham School as part of a re-branding exercise.
The client chose a double canopy City Walker Pro umbrella with contrasting, colour matched umbrella canopy prints for the inside and outside of the umbrella. The outer umbrella canopy is made up of the logo on 4 panels and a 5-colour print. The internal umbrella canopy is a bold contrasting colour that compliments the outer canopy and is a 3-colour digital print.
This umbrella was also customised with seam-matched panels, which were hand sewn together to ensure the design could flow correctly from one panel to the next. This is a time-intensive process and is completed by hand by our factory in the far east. A colour matched tie wrap was also included in the design of this bespoke umbrella, which was digitally printed to enable the design to flow when the umbrella is closed as well.
This bespoke City Walker umbrella was also colour matched to the client's branding, as opposed to Pantone matched which is something that we offer as an alternative. When a client doesn't have a Pantone reference for their umbrella, an umbrella can be matched against another product to ensure they are consistent. In this instance, our client sent us their new business cards and brochure that included the colours the umbrella should complement and this was used as a reference for the colour match.
Our range of umbrellas include three core models: golf umbrellas, walking umbrellas and folding umbrellas. Each model includes variants to suit your budget or lead time.
It may be that you need an umbrella quickly, and therefore we'll offer you a UK manufactured umbrella which we can turn around within 2-3 weeks. Customisation options are limited to a logo print on a UK manufactured umbrella. If you have a slightly longer lead time, then the customisation options are more extensive. You can add digital print to the inside and outside canopies that can then be seam-matched. You can add an engraved handle ring to a walking umbrella, a branded logo disk to a golf umbrella, metallic ink, a branded woven label or customised poppers on the tie wrap.
We are specialists in branded promotional merchandise. Printed umbrellas, custom-made bags and other branded merchandise that is sensibly sourced and never single-use plastic. If you would like to find out more about how we can help your business with sustainable branded merchandise, then find out more from us by visiting Wurlin or call us +44 (0)1225 667979.
We work with global clients and ship internationally.