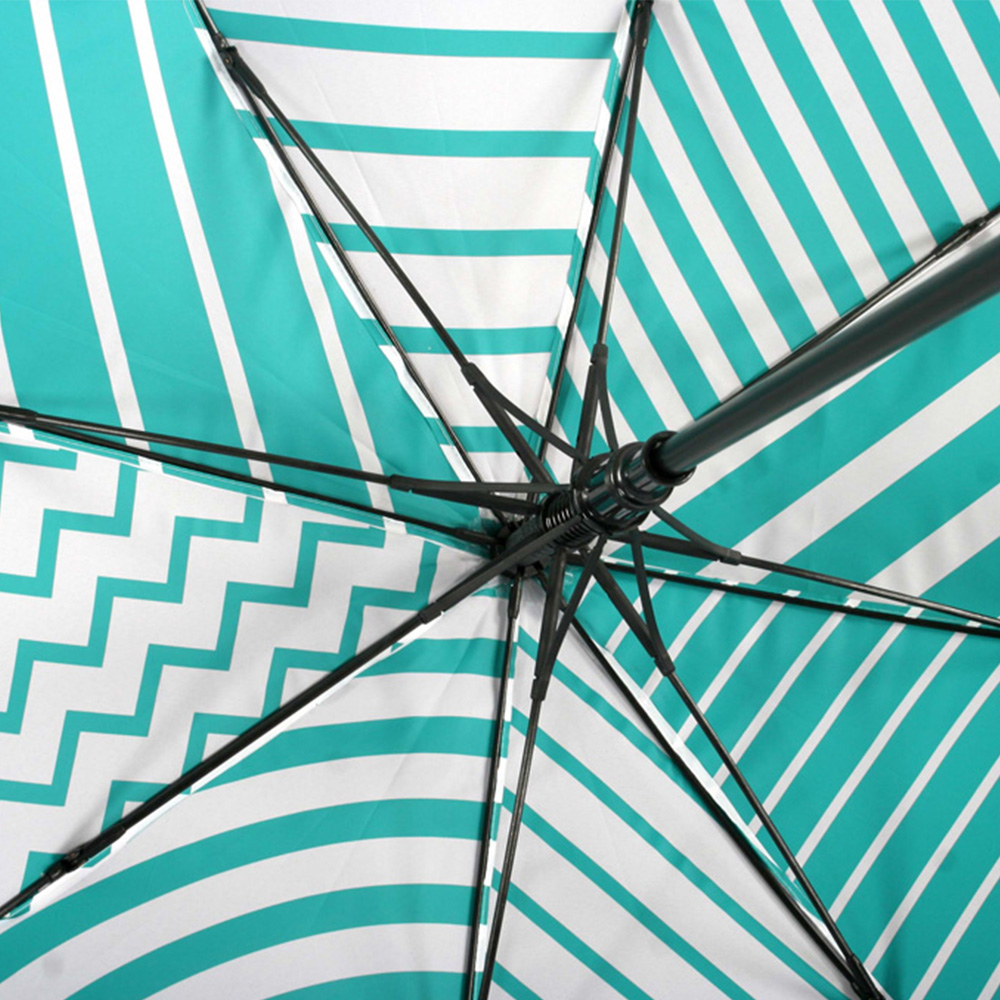 Bright geometric stripe print umbrella with contrasting stripes.
This geometric print umbrella with stand out contrasting stripes in bright turquoise and white are printed on the underside of the canopy. This adds a real wow factor when the umbrella is opened, giving it another visual dimension that is both impactful and eye catching. Geometric stripes work particularly well when used with a plain fabric on the other side of the canopy.
We are able to match your exact brand colours using our pantone matching service. Pantone matching an umbrella is a great way to ensure consistency of your brand execution.  We can dye or print the high-grade polyester we use for making Pantone matched umbrellas prior to construction of the umbrella. You can supply the Pantone number when you send us your artwork to print or you can send us an item you want us to colour match. Maybe you got your business cards printed in your specific brand colour but it looks slightly different on paper to the uniform you ordered? If you send us the item you want us to match the colour of your umbrella to, then we can do this. Colours are interpreted differently on different fabrics so you can choose the colour you want it to be to suit your identity.
Our range of umbrellas include three core models: golf umbrellas, walking umbrellas and folding umbrellas. Each model includes variants to suit your budget or lead time. It maybe you need an umbrella quickly and therefore we'll offer you a UK manufactured umbrella which we can turn around within 2-3 weeks. Customisation options are limited to a logo print on a UK manufactured umbrella, but if you have a slightly longer lead time then we can print inside and outside of the umbrella. You can add a branded woven label to your customised umbrella or you can engrave a neck ring to a walking umbrella or a branded logo disk to a golf umbrella handle.
We are specialists in branded promotional merchandise. Printed umbrellas, custom-made bags and other branded merchandise that is sensibly sourced and never single-use plastic. If you would like to find out more about how we can help your business with sustainable branded merchandise, then find out more from us by visiting Wurlin or call us +44 (0)1225 667979. We work with global clients and ship internationally.