We at the Umbrella Workshop, love colour
We live and breathe it each day. We have our favourite colours, our troublesome colours and colours we think should not come out to play.
PANTONE is the absolute resource for designers , clients and printers and manufacturers to speak in the same language of colour.
As the Inuit tribes of the north pole have 200 different names for snow, so we have for colour.
"I would like a sky blue umbrella please"
Take a blue for example, clients often ask for a sky blue umbrella canopy. When we look out the window from our offices in BATH, usually the sky is far from blue, its kind of bluey grey, with a Turner-esqe touch of red… this isn't very helpful is it… so that where the people of PANTONE come in. They categorise colours to a ref. such as 2975C Sky Blue.
Woohee – this is great, well sort of. Colour changes depending on the situation.
Things that affect colour
Ambient light source, where is the light coming from.
Type of lighting e.g. sun light / office lights.
Substate of material. PANTONE use both Coat (C) and Uncoated (U) References when describing colour, as colour subtly changes.
Transparency of the material.
Tools for selecting colour or color as our American brethren say.
Pantone have a number of great tools from transferring colour from.
The obvious one is the Pantone books, quite expensive is you only occasionally use colour, and the full set will set you back .
A full set of Pantone guides will set you back £450 ($700). You can buy PANTONE books second hand through sources such as Ebay and Amazon. But be aware that colours do fade on the books and they get pretty battered when being used at a printers or a studio.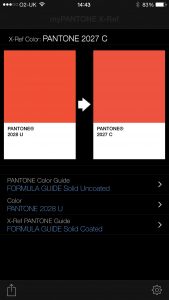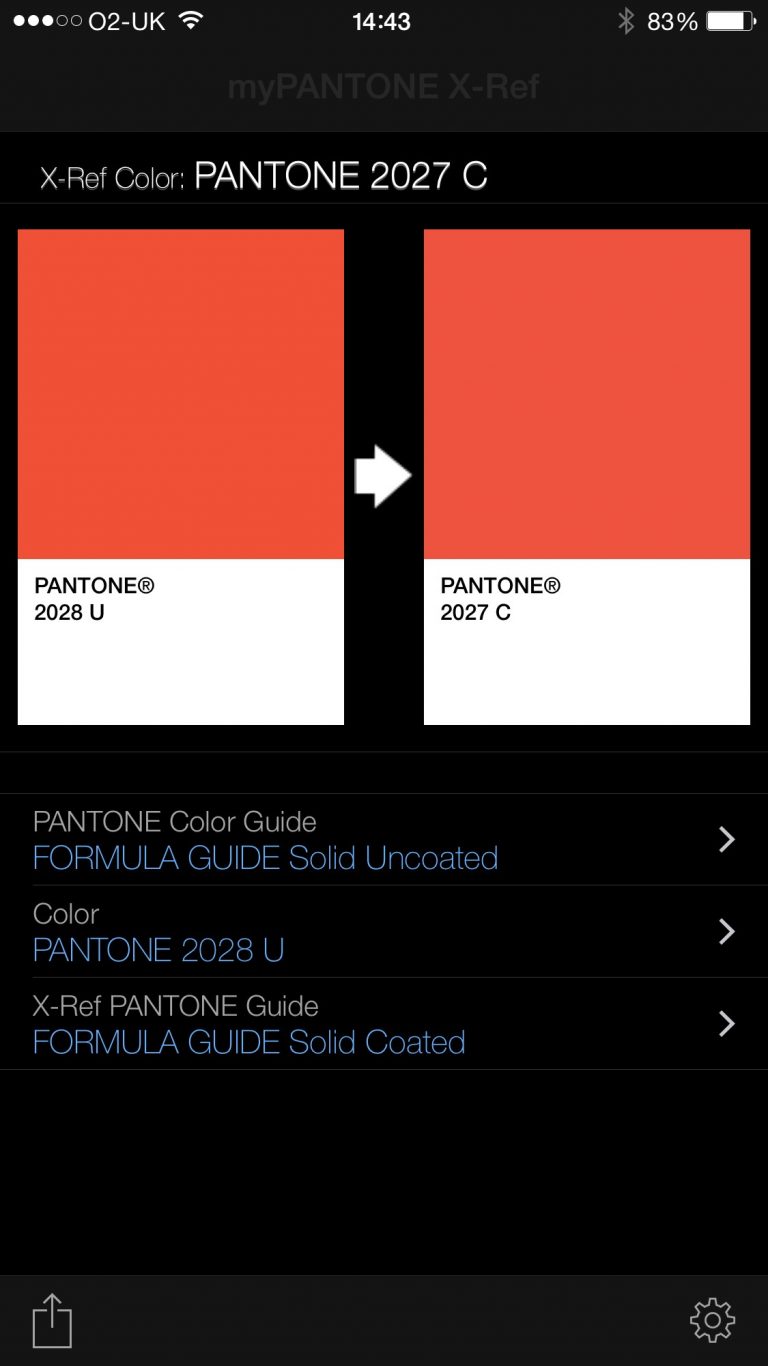 Colour and Pantone on the IPhone and IOS
There are a number of great tools which allows the easy match of colours from different Pantone books such as form C to U or vise versa.
You can get this get access to this at the PANTONE mothership: https://www.pantone.com/pages/pantone/color_xref.aspx
The Beauty of C
The original intention of this post was to explain that we only work in Pantone Coated references.
So when you want an umbrella to be Pantone Matched , please let us know the closest Pantone Coated reference, often referred to PMS C.
Our free Pantone chart
Use our free pantone chart to find the colour reference you require. We use the Pantone Solid Coated references when reproducing a colour. The Free Pantone Chart is only suggested as a guide and we would recommend using official Pantone Colour swatches to make accurate choices of colour. Colours will vary depending on the configuration and accuracy of your Computer screen to reproduce colours.
Pantone Numbers are often referred to as PMS (Pantone Matching system), and designated a number as reference, and a corresponding number, to represent the Pantone Range, such as C for Coated, and U for uncoated. Colours vary in their coated and Uncoated forms, and are not interchangeable.
Download our Pantone Colour Chart
Please see the official Pantone Website for more details on the Pantone Matching system.
Silk screen colour chart
We Don't do Grey we do 47 shades of it.
We have a number of Stock colours available within our bespoke range for delivery in 2 to 3 weeks. This material has be manufactured to strict colour tolerance and is a cost effective way of manufacturing your umbrella.
We can mix and match colours for your umbrella creating truly wonderful umbrella designs. Colours can be used both on external and internal Panels.
Don't forget your not restricted to our stock colours and we can pantone our umbrellas from as little as 50 pieces.
Download our Silk Screen Stock Colour Chart
Corporate colour range
Our Corporate colour range of Umbrellas come as ready made umbrellas in comprehensive range of colours. These umbrellas are already manufactured and printing is restricted to an A4 print area on each panel.
Our colour chart provides detailed comparison of colours to the Pantone Matching system. Use the colour charts to match up your company's branding.
Download our Corporate Colours Stock Colour Chart
Umbrella Fabric Swatch Colours from Far East Factory Production
In our far east factories we have access to a wide range of 190T Umbrella fabric colours.
Our colour chart provides detailed comparison of colours to the Pantone Matching system.
When we manufacture our umbrellas in the Far East, we can Logo print Umbrellas edge to edge.
You can find reference to our Pantone Color chart here.
Use the colour charts to match up your company's branding.
  Download our Far East Stock Colour Chart